note: free shipping does not apply to this product. Please choose the shipping service to your region, or contact us for alternative shipping service

This is another fine product from the Xplova brand. The NOZA One Bike Power Trainer is safe, accurate and smooth. It accurately replicates the nuances of road and inertia, while providing an optimal, safe, and accurate indoor workout experience. Moreover, it is portable, and has a battery life that lasts up to 360 hours before battery charge is required!

Enjoy the Online Training App
Train with your favourite software like Zwift and Rouvy. NOZA One is easily connected and controlled by the most popular cycling apps around the world.
Compete with riders from all over the world in Zwift, Rouvy, and achieve your cycling goals with the training plans of TrainerRoad. Weather or traffic no longer matters now.
Easy-to-hand
The New Noza One offers a constant resistance, with maximum power up to 800W, relatively easy for beginners of indoor cycling. Suitable for teenagers and elders to use.
Portable
Another important feature of Noza One is that it is portable and free from power cord. The long battery duration enables Noza One to last for 360 hours before charging the battery; thus, enhanced its mobility.
Silent
A fixed transmission belt and pulley design that regulates the sound level to only 58 dB, creating a quietness that is perfect for indoor training.
Xplova Workout Plus App for Training
With the Xplova Workout Plus App, you can easily upgrade the firmware, as well as running Xplova's training plans based on speed, power or heart rate.
Download this app for free from the App Store or Google Play.
Xplova Noza One's Eco-System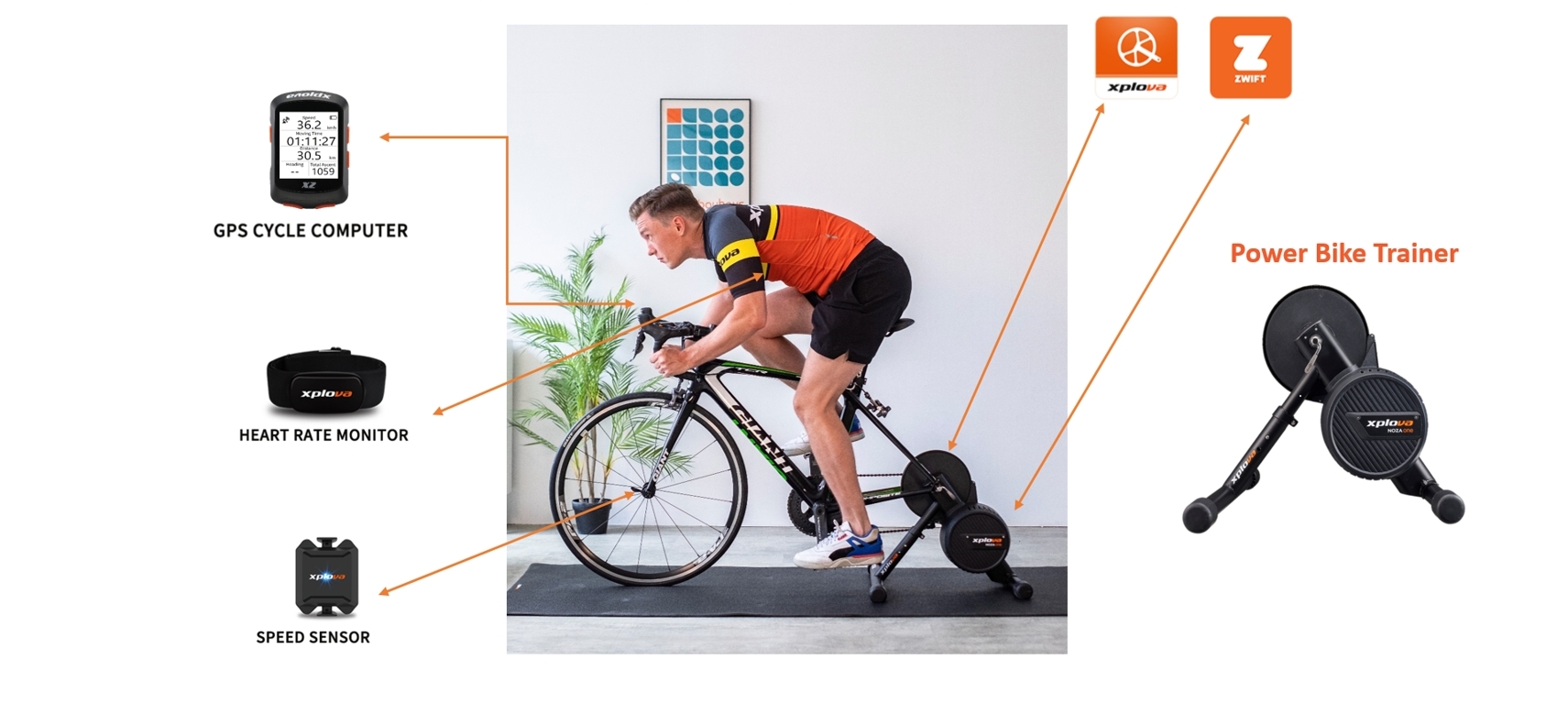 Specifications:
Maximum Power Output
800W (@58KPH)
Maximum Simulated Incline
2% (@70KG)
Accuracy
±3.0%
Bike Compatibility
Road: 650c, 700c
Mountain: 24", 26"
Drivetrain
Cassette needs to be purchased separately
Compatible with Shimano & SRAM 8/9/10/11 speed
cassette
Connectivity
ANT+, Bluetooth Smart
Firmware Upgradable
Yes
Box Dimensions
700 * 485 * 270 mm
In the Box
Rear bottom tube
Front bottom tube (Bolt and nut are Included within it)
Rear bottom tube nuts (x2)
Rear bottom tube bolts (x2)
Decorative bolt cover (x2)
Flywheel/ cassette cover bolt (x2)
Control module screw (x2)
Front bottom wrench
Flywheel/cassette cover bolt wrench (2mm Hexagon)
Flywheel/ cassette washer
Rear bottom wrench
Flywheel/ cassette cover
Quick release kit
Adapter for quick release
Control module
Thru Axle Adapter - Adapter C
Thru Axle Adapter - Adapter D
WORLDWIDE SHIPPING IS FREE!
We will use either insured airmail, or EMS courier service depending on weight and size limitations and we will provide a tracking number which you can use here to track your shipment: Chunghwa Post Tracking Service
Delivery takes between 5 to 14 days depending on your location. Please contact us if you require a faster service as we can upgrade to fast courier service for an additional fee.
For the items that are in stock, we can ship them to you within 24 hours. If your order for items that are not in stock, we will advise you of when we can deliver, as soon as the manufacturer or a distributor informs us.
Please note that CT Sports International is not responsible for any import duties or additional expenses beyond the shipping costs to your nominated address.
Reward program
Every time you purchase something at Cycle Taiwan Bike Shop, you will receive reward points that you can use towards your future purchases. The points do not expire, and can be used to top up your cash payment, or to purchase products outright.


For example:
You purchase a wheelset for $400. You have already accumulated 1000 reward points from your earlier purchases and choose to use them towards the $400 cost of the new wheelset.
You submit 1000 reward points during checkout and instantly get a $20 credit giving yout the final checkout value of $380. An instant saving of $20!


Thus, keep shopping at Cycle Taiwan Bike Shop and gain instant rewards on all your purchases. To check your current points balance, please click here: Reward points records and balance