note: free shipping does not apply to this product. Please choose the shipping service to your region, or contact us for alternative shipping service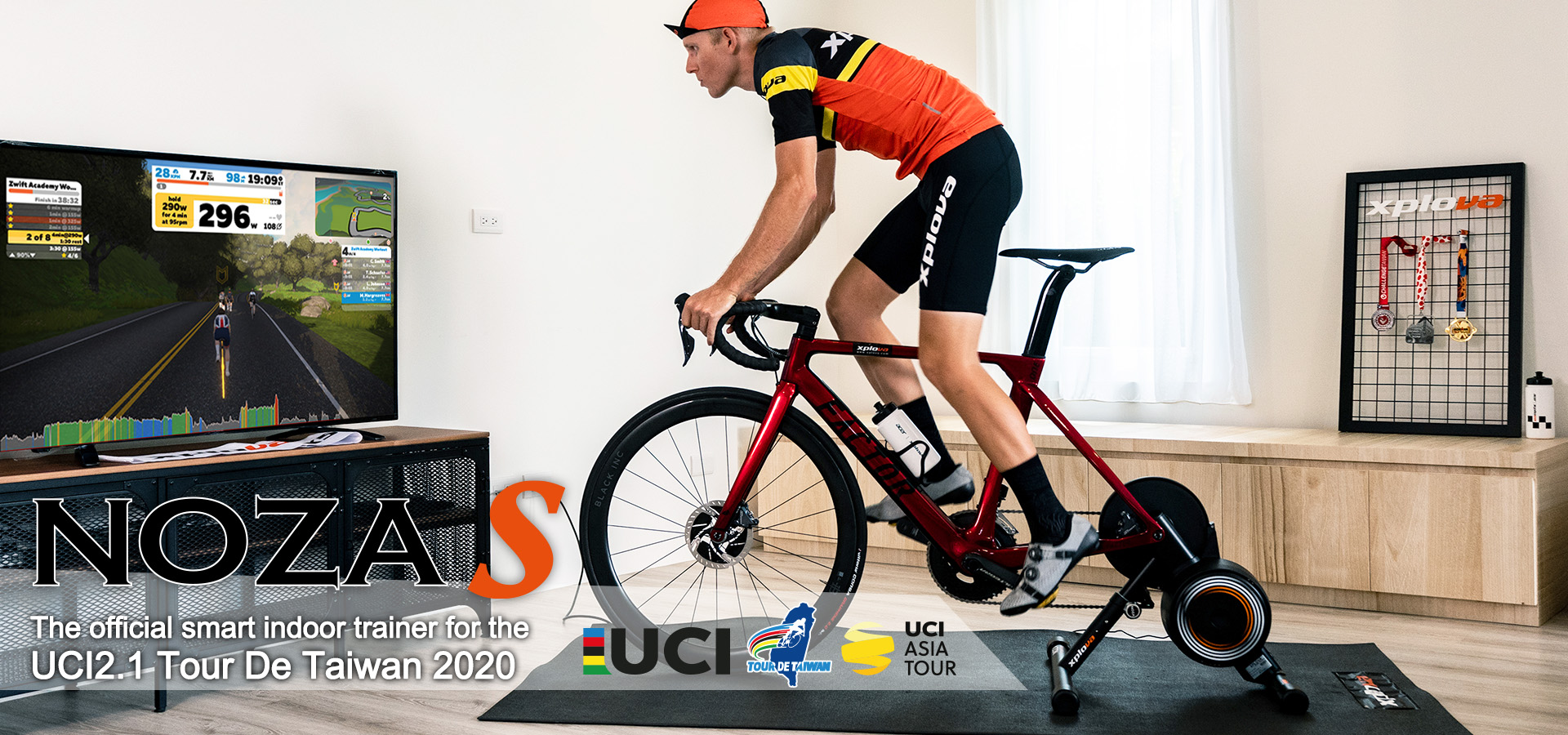 Smooth

Heavier flywheel in the same class,
5.9 Kg & 20.5 cm;
Well simulated inertia & realistic ride feel.
Adjustable front leg
Suitable for RD bike 650/700C; MTB 24"/26";
Level up your training with comfort.
Stable
Well resistance control & speed of change;
±2.5% precision;
Satisfy rider's ambition for continuous acceleration.
Optimize area of contact within
the rubber covers;
Reduces vibration on the most intense sprints.
Silent
Seize up the belt and pulley design,
58 dB only;
Fulfill your need for quietness.
Maximum Power 2500 watts;
18% simulated incline;
Perfect for further personal goal right at home!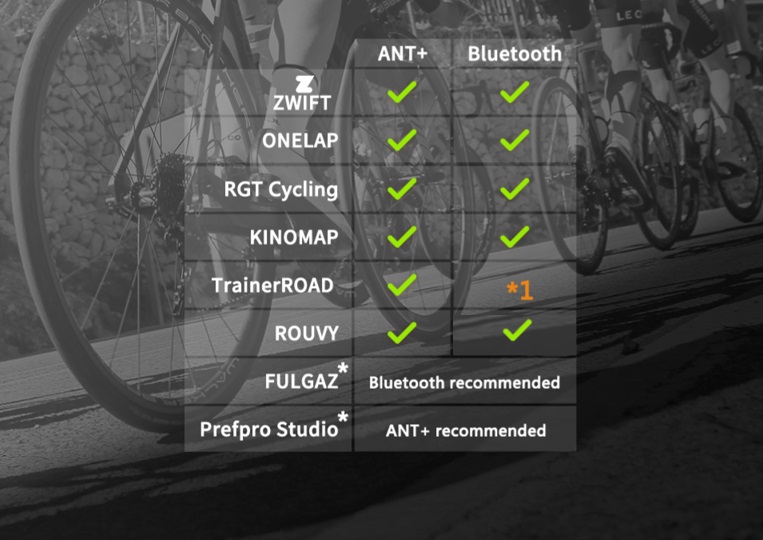 Enjoy The Most Online Training APP
Train with your favourite software like Zwift and TrainerRoad. The NOZA S is easily connected and controlled by the most popular cycling apps.
Compete with riders from all over the world in Zwift, and achieve your cycling goals with the training plans of TrainerRoad. Weather or traffic no longer matters now.
Extremely Powerful
By generating resistance up to 2,500 watts and simulating climbs up to a 18% grade,
the Xplova NOZA S is easily able to deliver during your most intense training sessions. The best in class, allow you push up your limit!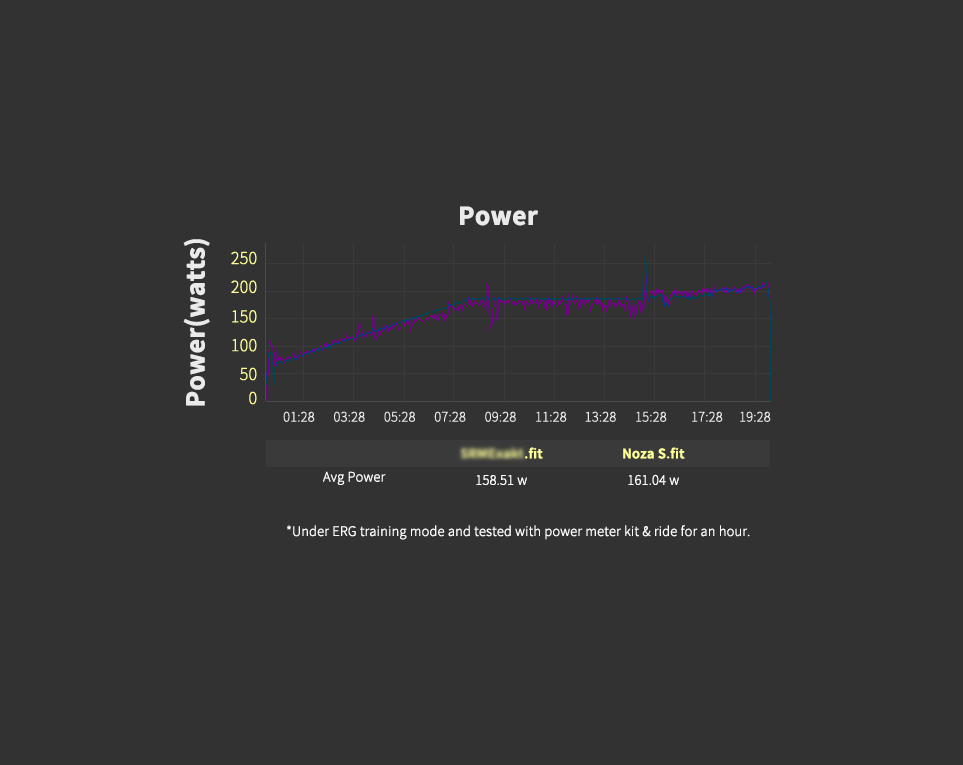 Highly Accurate and Consistent
With temperature compensation technology, six poles electromagnetic brake, and built-in strain gauge.
*Under ERG training mode and tested with power meter kit & ride for an hour.
Fantastic Road Feel
With this direct drive trainer, you can experience well-simulated inertia and realistic ride feel. Plus the adjustable leg fits perfectly with road bike 650/700C or mountain bike 24"/26".
Xplova Workout App for Training
With the Xplova Workout App, you can easily upgrade the firmware, as well as running Xplova's training plans based on speed, power or heart rate.
Download this app for free from the App Store or Google Play.
Specifications:
Dimensions (installed)
593.4*514.5*465.15mm
Total Weight (unboxed)
17Kg
Flywheel Weight
5.9Kg
Sound Level
58 dB (@30KPH)
Maximum Power Output
2500W (@58KPH)
Maximum Simulated Incline
18% (@70KG)
Resistance Type
Six electromagnetic
Accuracy
±2.5%
Bike Compatibility
Road: 650c, 700c
Mountain: 24", 26"
Drivetrain
Cassette not included.
Requires purchase/installation of new cassette: 8/9/10/11 Speed SRAM/Shimano
Connectivity
ANT+, ANT+ FE-C, Bluetooth Smart
Firmware Upgradable
Yes
Spindown Calibration
Yes
Electrical Requirements
100-240Volt 1.5A 50Hz-60Hz
Box Dimensions
700*500*300mm
In the Box
Front Leg
Rear Leg
Nuts (x2)
Bolts (x2)
1.8mm Spacer
Drive Side Adapter for 130mm and 135mm Quick Release
Drive Side Adapter for 12x142 and 12x148 Thru Axle
Reversible hub spacer for Thru Axle
Front Leg Adjustment Knob
Hex Tool
Quick Release Skewer
AC Power Adapter
WORLDWIDE SHIPPING IS FREE!
We will use either insured airmail, or EMS courier service depending on weight and size limitations and we will provide a tracking number which you can use here to track your shipment: Chunghwa Post Tracking Service
Delivery takes between 5 to 14 days depending on your location. Please contact us if you require a faster service as we can upgrade to fast courier service for an additional fee.
For the items that are in stock, we can ship them to you within 24 hours. If your order for items that are not in stock, we will advise you of when we can deliver, as soon as the manufacturer or a distributor informs us.
Please note that CT Sports International is not responsible for any import duties or additional expenses beyond the shipping costs to your nominated address.
Reward program
Every time you purchase something at Cycle Taiwan Bike Shop, you will receive reward points that you can use towards your future purchases. The points do not expire, and can be used to top up your cash payment, or to purchase products outright.


For example:
You purchase a wheelset for $400. You have already accumulated 1000 reward points from your earlier purchases and choose to use them towards the $400 cost of the new wheelset.
You submit 1000 reward points during checkout and instantly get a $20 credit giving yout the final checkout value of $380. An instant saving of $20!


Thus, keep shopping at Cycle Taiwan Bike Shop and gain instant rewards on all your purchases. To check your current points balance, please click here: Reward points records and balance